UHC Gives Tribute to its Founding Fathers Celebrating 100 Years in Business
June 27, 2012
Union Hide Company gives tribute to it's founding fathers, Mr. Kalman Gluck, his son Mr. Maxwell Gluck and their third president Mr. Joseph Katzburg and Vice President and Sales Manager Mr. Victor Fernandez.
Union Hide Company started out in 1906 with just a horse and wagon. The company's founder, Kalman Gluck, would go to the farms in the bay area buying used burlap feed bags and the cattle hides and skins from animals that the farms had slaughtered.
In 1912, UHC bought the property at Third & Harrison Streets in Oakland, California and built a three-story brick building. The second and third floors were used to vacuum, clean, and patch the used burlap bags. The first floor was used for office and warehouse. The basement was used as a hide cellar. Being below the ground level, the temperature remained cool and constant during the winter and summer months.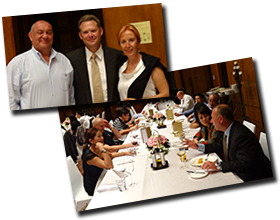 UHC 100th Anniversary Dinner Party
Pudong Intercontinental Hotel in Shanghai, China
September 5, 2012
Click graphic to view photo gallery.
Around 1951, a large brick building was built along side of the three-story building. This new building was used for curing green hides and for hide storage. The hide cellar in the basement of the three-story building then became an area exclusively for the curing and grading of calfskins.
In 1954 Kalman Gluck passed away. His son, Maxwell, a former World War II Navy Pilot took over as the company's 2nd president, hiring Mr. Victor Fernandez who introduced UHC to their first exports of cattle hides and skins in the early 1960's, first to Japan and Mexico. Maxwell was a charter member of the Oakland World Trade Association and Victor Fernandez served as the Chairman of OWTA until 1981.
In 1963, a hide processing plant was built in Modesto, California. UHC built in this location because it was centrally located in the San Joaquin Valley where many slaughterhouses were located within reasonable driving distance of the plant. Mr. Maxwell Gluck led the company until 1980 when he passed away and Mr. Joseph Katzburg took over as it's 3rd president. Joe Katzburg as we all affectionately know him, was hired by the founder, Kalman Gluck in 1948, just back from his service in WWII as a Merchant Marine serviceman. He continued for 53 years with Union Hide Company until he retired in 2001. Mr. Katzburg served on the National Hide Association Board of Directors and contributed to the publishing of the book, "HIDES & SKINS" in 1970. He also served on the first Board of Directors of the United States Hides, Skins & Leather Association in 1980 under the chairmanship of Mr. Irv Mindel.
By 1988, UHC had discontinued using the warehouse in Oakland, California. It was sold and UHC moved to the current office location in Walnut Creek, California with hide operations still at the Modesto, California processing plant.
Published in 32nd Annual UNITED STATES HIDES, SKINS & LEATHER ASSOCATION Annual Chicago Convention Brochure held October 4-5, 2012 at the Hotel Intercontinental, Chicago, ILLINOIS.
Copyright © 2012 Union Hide Company. All Rights Reserved.
2125 Oak Grove Rd., STE 121 - Walnut Creek, CA 94598
Phone: (925) 935-9550